Digital Mental Health Day for Students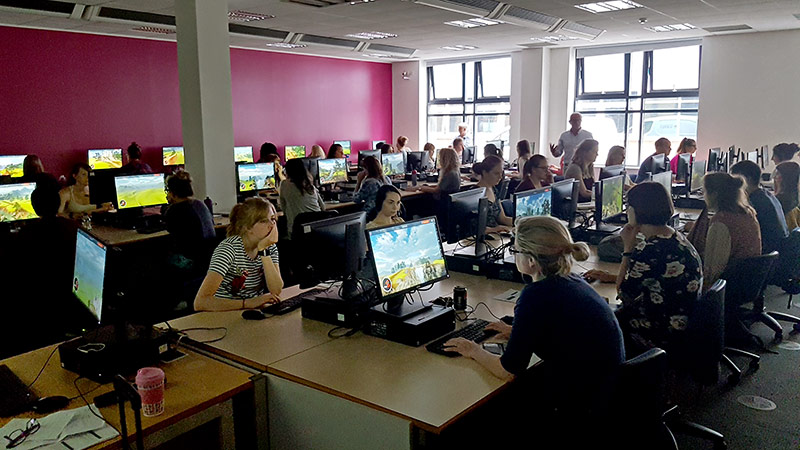 The world of mental healthcare is changing and the University is at the forefront of these developments. According to the recent UK Government taskforce [1], technology will play a critical role by expanding access to digital services we enable more people to receive effective care and provide greater accessibility and choice.
And so, earlier this year, over 50 trainee clinical psychologists took part in a Digital Mental Health event at the University of Surrey. Students got 'hands-on' experience with the latest technologies being used both in the NHS and around the world.
The event was the idea of Dr Alesia Moulton-Perkins, a senior teaching fellow in the Faculty of Health and Medical Services. The day included presentations using avatars and virtual world technology, the impact of technology on the therapeutic relationship, hands on use of live-chat and computerised CBT technologies and how best to use videoconferencing software to provide care online. Bringing together industry leaders in digital mental health like ProReal (avatars), Ieso (internet-enabled CBT) together with clinicians made for an exciting day.
"Using technology in mental health can be a complex subject for some, but this group were completely engaged – they asked great questions and really put themselves in the role of their clients"
said Andrew Jackson, Chief Executive of ProReal Ltd.
Philippa Weitz, Research and Development Director of the Association for Counselling and Therapy Online who presented on delivering therapy by videoconferencing said
"You are the next generation coming through in online therapy. I invite you to challenge and be challenged about every part of your online work and to be inquisitive and enquiring. I don't know of any other psychology course where this online therapy information is taught, which makes you an exceptional group and will I hope inspire you to go on and learn more about this exciting way of working."
Andrew Smithsimmons, CBT therapist and Senior Clinical Educator for IESO Digital Health came all the way from Scotland to present on how ieCBT (live, synchronous, written dialogue) can be used therapeutically. He said
"It was fantastic to see trainee clinicians engage with the complex topic of how technology can be used progressively to improve on the historically modest outcomes of psychological therapies. This group has a key role in harnessing technology to improve the lives of the communities they intend to serve and their enthusiasm bodes well for the future."
Another of the presenters, Counselling Psychologist Dr Carole Francis-Smith said after the event
"It's so great that student psychologists get food for thought about what's out there, and actually try out what they might usefully put into practice."
"I think its really important that people have choice about their treatment; whether this be face to face, over Skype, using avatars etc - people should be entitled to a choice"
said Becks Easton, a trainee clinical psychologist who took part in the day. Easton continued
"the research tells us that good therapeutic outcomes are linked to a strong therapeutic alliance between a client and practitioner and so having a choice of treatment options will facilitate this alliance and lead to better outcomes."
The discussions also covered the challenges of adopting digital mental health solutions including the difficulties of taking on new skills
"The current feeling about digital support can often be negative so more needs to be included in clinical training courses like this. Using digital therapies is another string to our bow!" said Easton.
Mary John, Course Director agreed:
"Providing opportunities for our clients to access therapy is crucial. We know that approximately 50% of adults or young people improve with one of the face to face psychological therapies on offer. This leaves the other 50% needing an alternative. Digital technologies can be one way of improving access and therefore the individual's well being. To ensure that this is available we need to be training the clinicians of the future to be able to use and develop these technologies"
Dr Moulton-Perkins said afterwards
"It was great - the event was a huge success, and I hope we can run the day again next year; digital mental health is now an important component in this field, and I want to thank all the people who made this event possible."
[1] - https://www.england.nhs.uk/wp-content/uploads/2016/02/Mental-Health-Taskforce-FYFV-final.pdf
---
Want to receive our newsletter?